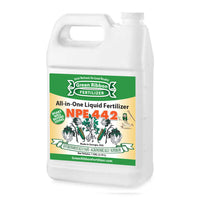 All-in-One Liquid Fertilizer – NPE 442 (1 Gallon)
WHAT IS NPE 442?
Developed after 45 years of experience in the formulation of agricultural products, NPE 442 is a unique complete liquid nutrient that combines all NPK macronutrients, all secondary nutrients and micronutrients along all the organic carbon contributed from humic and fulvic acids. NPE 442 contains sea plant extract, at least 6 different strains of beneficials bacteria, beneficial fungi, 14 different amino acids, as well as natural growth enhancers. Secondary and micronutrients are chelated with U.S. patented Ultra Chelation™ technology. 
HOW TO USE NPE 442
1)
After plant emerges
, add one cup of NPE 442 to one gallon of water. Spray lightly on leaves until liquid rolls off of leaves. Apply once per week until plant is established (say, one foot tall).
2)
After plant is es­tablished
,
the mixture of one cup of NPE 442 with one gallon of water is ready to be applied as a complete biological and nutritional meal for your plants!  This mixture is best applied as a spray (in a spray bottle) weekly or every two weeks on top of the leaves of the plant, early in the morning or after the sun goes down.
For trees, mix one cup of NPE 442 into one gallon of water.  Pour the resulting mix around the tree trunk base.  Applications can be made every 2-3 weeks when the tree begins to bud.  Applications can be spread to every 4-6 weeks once summer's heat begins and may continue until frost.
For use on lawns, 32 ounces should be enough to cover 3,500 square feet of lawn, typical for a 1/4 acre home lot.
NPE 442 liquid should be mixed into water at a rate of one cup of NPE 442 per gallon of water.  If you have a cup feeder that attaches to your garden hose, fill the cup with NPE 442 and put on the setting that releases the most liquid from that cup.  Then, refill the cup and continue spraying until 32 ounces of NPE 442 has been applied to the 3,500 square feet of lawn.  Repeat monthly during late spring and early fall months where you live.  Allow one full day to pass after application before allowing pets or children to play on the lawn.
GUARANTEED ANAYLYSIS:
| | |
| --- | --- |
| Nitrogen (N) | 1.0% |
| Phosphate (P2O5) | 0.5% |
| Potash (K2O) | 1.0% |
| Calcium (Ca) | 0.1% |
| Iron (Fe) | 0.01% |
| Magnesium (Mg) | 0.02% |
| Sulfur (S) | 0.01% |
| Boron (B) | 0.01% |
| Copper (Cu) | 0.01% |
| Manganese (Mn) | 0.0001% |
| Silicon (Si) | 0.13% |
| Zinc (Zn) | 0.01% |